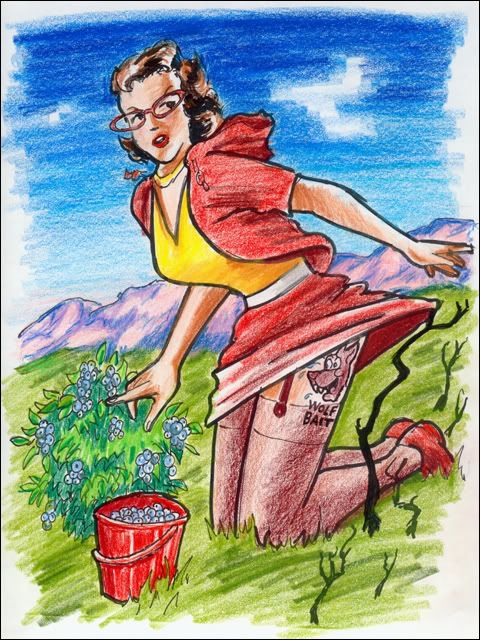 I live in a small community in Mid-Michigan and every year during the third weekend in August we host the Montrose Blueberry Festival. (Yes, we do have many places to pick berries!) But for those who have never attended our festival, here are a few reasons to zip into my town for a visit.

Master griller
1. Blueberries… everything blueberries! Yummy! Pie eating contest!
2. Blueberry pancake breakfast on Sat & Sun. We serve 4,000 hungry folks. The sausages are the kids favorites. My family has been working the breakfast for years. My eldest and several other varsity
football players will be flipping pancakes. So come on it and I'll take a break to chat.

Gypsy Lady
The Queen with my dog, Maggie
3. Medieval Village & Renaissance Faire. Montrose is Scottish for "mountain of roses". In this hilly farming community, many wild roses grow around fields and in ditches.

Working with the knowledge of our Scottish heritage and members from the greater Renaissance Festival folk from the Shiabruck Medieval Village, we've put together an amazing village and faire.
Stop by and meet my special friends, Gypsy and Hagrid. Gypsy made the original necklace Mike McAlister wears in my book
"Lonely Soul".
4. The awesome Super Parade with over 100 entrees. It's a blast!
5. Farmers Market. The best food to put into your body is wholesome home grown!
6. Flea Market and craft show. I lose myself in there every year; the boys have to lure me out with chocolate.
7. The teen dance, Carnival and Midway. Great ways to keep the teens busy so you can have some alone time with your honey.
8. Mud Drag &Mud Bog for those who still enjoy playing in the mud.
9. An awesome beer tent with live entertainment and Michigan Wine & Spirits Tasting. Live music and a karaoke contest. No way… you won't hear me sing!
10.Classic Car Show.
11. Golf Scramble featuring a chicken & rib dinner and loads of prizes. The money raised goes to our local food pantry.
12. Softball, 5-mile road race and horseshoes.
13. Great opportunities to see a lot of friends and make new ones!
Throughout the town and township, there are a ton of rummage sales offering wonderful treasures. I hope many of you take a break from your busy schedule and visit. If I'm available, I'll let you know where the best goodies are. Hugs!
Visit
www.montroseblueberryfestival.net/
for more info